ENDLESSLY RECYCLED WATER
The Vitii system is inspired by the circular economy. The water is recycled (almost) endlessly.
The biofilter keeps the water's organic content balanced, maintaining optimal water quality over many years while preventing the build-up of pollutants. Combined with mechanical and UV filtration, the system stops the water ever losing its natural quality.
The system only consumes water for backwashing – a key part of any filtration system that involves pumping pressurised water to remove the build-up of dead bacteria and micro-residue trapped in the filter.
A UNIQUE EXPERIENCE
Swimming in natural, fresh, chemical-free water is an experience like no other.
REDUCED WATER CONSUMPTION
Our filtration system produces no pollutants, by-products or toxic stabilisers – in short, nothing! The result? A natural, unchanging balance.
NO HARMFUL IMPACT ON HEALTH
Most disinfectants also attack the body, especially the mucous membranes. And that's not to mention the toxic by-products that can sometimes build up at dangerous levels.
NO EYE IRRITATION
When it comes to sensitive organs like the eyes, there's nothing better than pure water!
LESS ENERGY TO HEAT MAKE-UP WATER
Lower water consumption has other knock-on benefits, such as requiring less energy for heating.
A SOLUTION FOR ALL RESPIRATORY PROBLEMS
People with respiratory problems will be all too familiar with the harmful effects of chlorine…
NO UNPLEASANT ODOUR
Chemical-free water doesn't smell of chlorine or dry out the skin. Everything is completely neutral – the odour and the sensation on the skin and mucous membranes.
Water treated with our system is kind on nature. But a pool that's compatible with the environment has some important differences when compared with a conventional pool.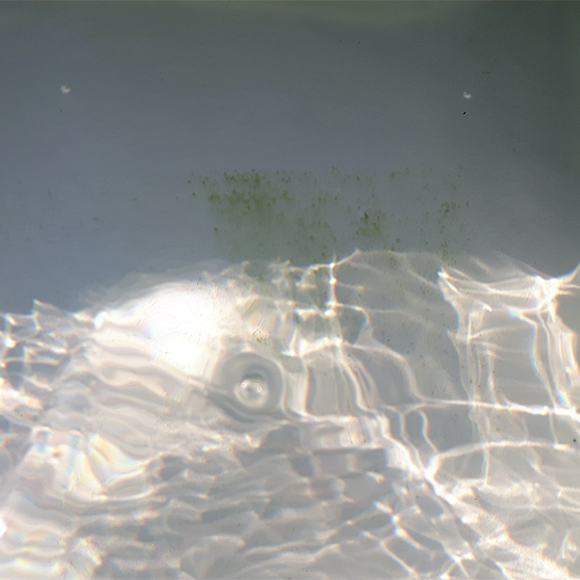 BIOFILM
Biofilm can appear on pool walls if left uncleaned. The biofilm looks like a shiny coating, or in some cases like small green/brown marks. That's why it's essential to clean pool walls regularly. We also strongly recommend using an automatic pool cleaner. The lack of biocides makes pool-wall cleaning all the more important.